Deep Tissue Laser Therapy
What makes Deep Tissue Therapy Unique?
Deep tissue laser therapy utilizes the power of light concentrated and altered by laser to penetrate skin and drive healing energy into tissues. The main therapeutic effect of this laser application is to facilitate and accelerate the body's ability to repair damaged tissue in both chronic and acute cases. This laser has demonstrated the ability to significantly enhance the body's natural defenses, while reducing pain!
The Science:
Laser therapy is a medical treatment that uses focused light to stimulate a process called photobiomodulation (PBM). During PBM, photons enter the tissue and trigger a biological cascade of events that leads to an increase in cellular metabolism, which can decrease pain and inflammation and accelerate the healing process.
How can Deep Tissue Laser Therapy Work For You?
What can the laser do for me?
The Class IV laser treats a wide variety of conditions, including but not limited to; arthritic issues, soft tissue injuries, degenerative conditions, and neurogenic conditions. You will also notice a reduction in inflammation, pain and edema. Healing time is typically faster and repaired tissues are strengthened after each treatment. This treatment can also assist with a reduction in scarring after some surgeries as well as aid in the healing process.
Treatments
Experience Pain Relief and Reduced Inflammation associated with:
Neck Pain
Back Pain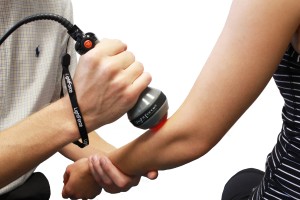 Shoulder Pain
Sciatica
Arthritis
TMJ
Plantar Fasciitis
Sports Injuries
Soft Tissue Damage
And Much More…
What does the Deep Tissue Laser feel like?
Our deep tissue laser gives off a warm sensation during treatment. When therapy is applied using the roller-ball apparatus, the sensation can mimic that of a gentle warm stone massage. Most therapy sessions range between 5 – 15 minutes.
Does it hurt? Is it safe?
The laser utilized by our Practice is quick, painless and safe! Clinical studies have found no adverse side effects, only benefits! Be sure to talk to Dr. Chris and our knowledgeable staff regarding any concerns you may have of this treatment option.
When should I start feeling results? How long does it last?
Laser therapy is considered a cumulative treatment. Meaning, each session builds upon the previous one. Therefore, the more sessions you partake in, the longer lasting the effects will be. In
many cases, patients begin to see a noticeable positive change after just
one treatment.
Schedule your appointment with our team today! Dr. Chris is an in-network provider for most insurance companies.
---
Deep Tissue Laser Therapy Dover | (302) 736-1223